Welcome to our Farm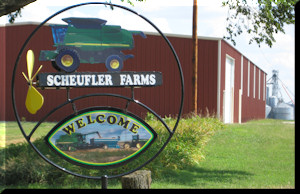 ~ There's a lot going on underfoot. ~
Our farm is built upon the legacy of those who came before us. Lee's great-grandfather homesteaded in Rice County in the 1800's. Today we farm many of the same tracts of land originally farmed by his father, grandfather and great-grandfather.
Lee grew up where our present farm headquarters is located. Margaret was raised on a farm in Pawnee county. Both of our families have strong ties to the land and our children share this love as well. We invite you to explore our website to learn more about our farm and our philosophy.
Our Land
The land we farm is our most valuable resource. We'll share what we are learning in order to protect and safeguard it for the next generation.
Our Crops
We have a diversified farming operation with both dryland and irrigated crops consisting of wheat, corn, soybeans and milo. We plant or harvest a crop nearly every month of the year.
Our Family
Our son, daughter and son-in-law have a great interest in the farm but are currently pursuing other careers. We'll introduce you to them in the following pages also.